Future of Mobility - Powered by AI, IoT, & Cloud Technology
Stuttgart
Deutchland @ (DE)
Tel 2019-09-17
Categoria Events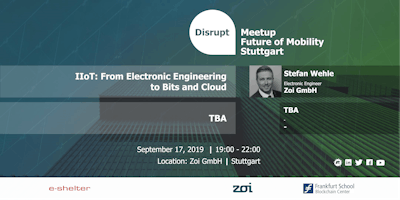 The automotive industry of the future will be starkly different from the one we have today. With the help of upcoming technologies such as AI, IoT, Cloud Technology - it will be more personalized to the consumer's demands, integrated, smart and autonomous, and connected. This meetup discusses how these technologies can be applied to the automotive industry. How will artificial intelligence future proof the automotive industry and enable the rise of self-driving cars? How can we integrate IoT, Cloud Technology and mobility into a common platform leading to the rise of native enterprise applications that will not only affect sectors within Mobility but also lead to verification and process improvements across the entire chain? Join the Disrupt meetup of the Future of Mobility community in Stuttgart.
This community brings together enthusiasts that want to get to know the automotive sector technology, latest developments in this sector, understand how it can be used, and applied in their processes and those that already invest in it. TOPIC - Future of Mobility - Powered by AI, IoT, & Cloud Technology SPEAKERS Here is the current line-up of the upcoming speakers (will be updated over time): (1) Stefan Wehle and Tim Burkert, Zoi GmbH Stefan Wehle is an electronic engineer, responsible for the development of high-speed electronics and IoT devices at Zoi. Before Zoi, he was working for eight years at MAHLE in the field of electronics development for motor peripheral components from prototype to serial product. Tim Burkert (M. Sc. Informationssystemtechnik (iST) TU Darmstadt) is responsible for integration of software and hardware system at Zoi. Part-time hardware hacker and ex researcher in computer architecture as well as software design.
Participation in AMIDAR processor and CGRA accelerator project at TU Darmstadt. PICe-IP implementation for CGRA accelerators and integration into Linux. Concepts and implementation of SDN systems based on DPDK, OpenFlow, P4 and custom FPGA implementation. (2) Dominik Friedel, Business Development Manager, e-shelter Dominik Friedel is Strategist at e-shelter's Global Innovation Labs, where prospects, customers, partners, start-ups and the world's most advanced technology providers create a vibrant community to validate innovations faster and at lower cost in a real-life test environment, hosted by one of Europe's leading datacenter providers. Prior, he worked at Hewlett-Packard as Solution Architect for enterprise IT systems. (3) TBA AGENDA19:00h - 19:30h: Entrance19:30h - 19:40h: Introduction19:40h - 19:55h: IIoT: From Electronic Engineering to Bits and Cloud19:55h - 20:05h: Discussion and Q&A20:05h - 20:15h: Break 20:15h - 20:30h: The Future Mobility Hub– Where Mobility Meets Digital Infrastructure20:30h - 20:40h: Discussion and Q&A20:40h - 20:50h: Break20:50h - 21:05h : TBA21:05h - 21:15h: Discussion and Q&A21:15h - 22:00h: Drinks + Networking DATE AND VENUEDate: Tuesday, September 17, 2019, 19:00h - 22:00hVenue: ZOI GmbH, Quellenstraße 7/Tor 19, 70376 Stuttgart LANGUAGEThis meetup will be held in English.
WANT TO BECOME A SPEAKER AT OUR DISRUPT MEETUPS?Do you want to be a speaker or recommend somebody? Please make your proposal here (https://goo.gl/forms/cCenjo1Xo6JUdg9x1) and we will get back to you. CONTACTDisrupt Meetup | Future of Mobility StuttgartEmail:
[email protected]
: https://www.linkedin.com/company/disrupt-network ABOUT USDisrupt Meetup | Future of Mobility StuttgartThis community brings together blockchain enthusiastic enterprises that want to get to know the technology, understand how it can be used and applied in their processes and those that already invest in it. The Disrupt Network organizes regularly meetups and invites exciting speakers to Frankfurt. It does not matter if you are a startup or represent a large corporation, just join the community and let your network grow with us.
DATA PROTECTIONEnglisch/English: Through participating in this event (that is, through ordering a free ticket with Eventbrite), the participant gives his consent that Disrupt Network UG (haftungsbeschränkt)  (1) saves name and contact data (e.g. email), (2) is later on allowed to send emails to the participant, and (3) is allowed to take photos and videos during the meetup that might be published (e.g. online, offline) and that might include the participant. The emails in (2) represent newsletters and announcements of events (e.g. information about location, information about changes in schedule). If the participant does not agree to points (1), (2) and (3), he or she shall not participate in the event. Then, he or she should not order a ticket for this event.
Deutsch/German: Durch die Teilnahme an dieser Veranstaltung (d.h. durch das Bestellen eines kostenlosen Tickets auf Eventbrite), erteilt der/die Teilnehmer/in sein/ihr Einverständnis, dass die Disrupt Network UG (haftungsbeschränkt) (1) seinen/ihren Namen und Kontaktdaten (insb. E-Mail-Adresse) speichert, (2) später befugt ist, E-Mails an den/die Teilnehmer/in zu senden und zudem (3) befugt ist, Fotos und Videos während der Veranstaltung zu machen, die den/die Teilnehmer/in beinhalten können, und diese dann zu veröffentlichen (z.B. online oder offline). Die E-Mails in (2) sind Newsletter und Ankündigungen für Veranstaltungen (z.B. Information bzgl. des Orts eines stattfinden Events oder Änderungen im Programmablauf). Sollte der/die Teilnehmer/in nicht mit den Punkten (1), (2) und (3) einverstanden sein, sollte er/sie nicht an der Veranstaltung teilnehmen. Er/sie sollte dann kein Ticket für die Veranstaltung bestellen. ------------------------------------ Englisch/English: Liability The liability of the organizer and his agents - with the exception of cases of intent and gross negligence - is excluded to the extent permitted by law. Should individual provisions of this contract be ineffective or unenforceable or become ineffective or unenforceable after the conclusion of the contract, the validity of the rest of the contract remains unaffected. The ineffective or unenforceable provision shall be replaced by an effective and enforceable provision whose effects come closest to the economic purpose pursued by the contracting parties with the invalid or unenforceable provision. The above provisions shall apply in the event that the contract proves to be incomplete. Deutsch/German: Haftung Die Haftung des Veranstalters und der von ihm Beauftragten ist – mit Ausnahme der Fälle von Vorsatz und grober Fahrlässigkeit – ausgeschlossen soweit dies gesetzlich zulässig ist. Sollten einzelne Bestimmungen dieses Vertrages unwirksam oder undurchführbar sein oder nach Vertragsschluss unwirksam oder undurchführbar werden, bleibt davon die Wirksamkeit des Vertrages im Übrigen unberührt. An die Stelle der unwirksamen oder undurchführbaren Bestimmung soll diejenige wirksame und durchführbare Regelung treten, deren Wirkungen der wirtschaftlichen Zielsetzung am nächsten kommen, die die Vertragsparteien mit der unwirksamen bzw. undurchführbaren Bestimmung verfolgt haben. Die vorstehenden Bestimmungen gelten entsprechend für den Fall, dass sich der Vertrag als lückenhaft erweist.